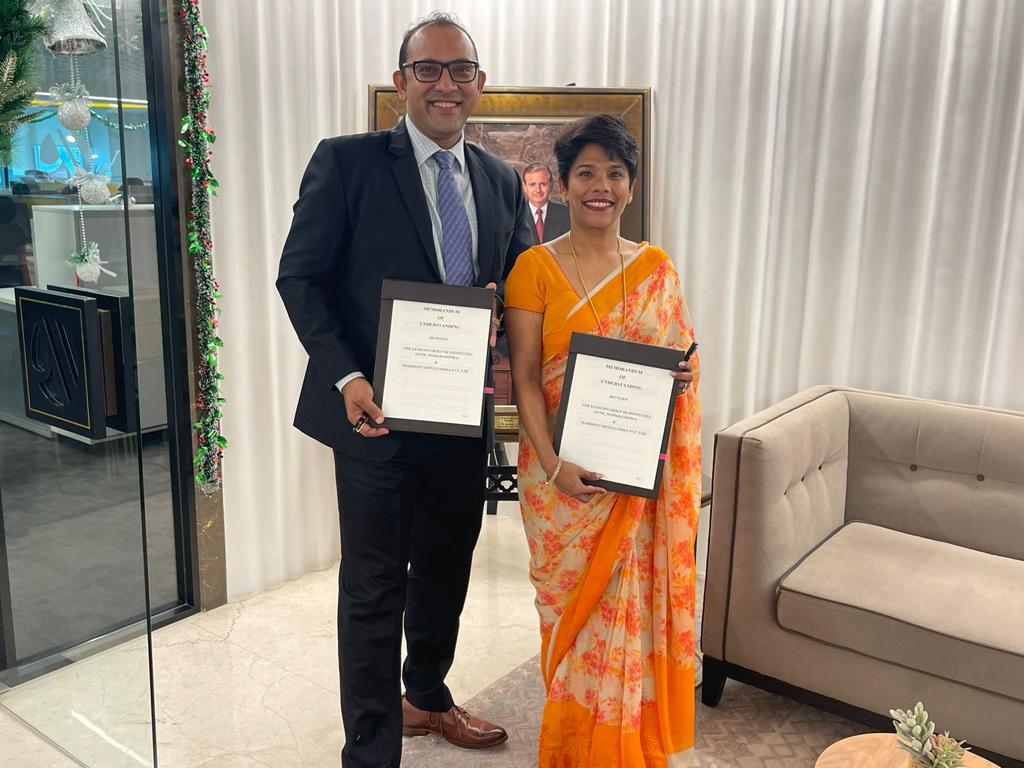 Lexicon Institute Of Hotel Management Signs An Mou With Marriott Hotels India For Strengthening The Learning Curve And Development Of Its Students
With the aim of offering employment driven educational advantage to those aspiring for a career in hospitality, the soon-to-be-launched Lexicon Institute of Hotel Management has joined hands with Marriott Hotels India.
After spending over 20 Years in the hospitality industry, primarily with Marriott International and now into Education as the CEO – The Lexicon Group of Institutes it became personally important to me to contribute towards "Creating the Next Generation Leaders in Hospitality". Together with colleagues from the industry Mr. Gurmeet Singh, Mr. Nikhil Kapur, Mr. Gladvin Rego and Mr. Anup Sheth, we come together in the form of the Governing Council of the Lexicon Institute of Hotel Management, a Hotel School – "By the Hoteliers, For the Hoteliers"

Nasir Shaikh, CEO – The Lexicon Group of Institutes and MultiFit.
The focus of the hotel school is not just imparting theoretical knowledge, but to develop students skillfully so that each can live by the motto "Believe In Yourself". True to its vision of creating "Day Zero Professionals", the institute's partnership will be seen as a purposeful step to involve the industry, in nurturing the very people it will employ in the future.
Within the partnership agreement, Marriott India will own a class in the second and third year of the program, whereby the students will receive mentoring and will be given career guidance. Further they will be assisted in projects and will be a part of problem-solving teams in their hotels, understanding issues through research and analysis. Senior leaders would assist in curriculum design, thus bridging skill gaps prevalent in traditional Hotel Management programs.
In addition, students will enjoy inputs through guest lectures and faculty development programs that will keep the students and faculty abreast of the latest in the hotel industry. The Executive Leadership Program of the Lexicon IHM, will be supported by Marriott leadership, that will help mould young hospitality aspirants into confident hospitality professionals.
Further, the Lexicon IHM students will get preference for internships and placements at Marriott Hotels itself. All this is going to be backed by consistent evaluation and performance grading.
Marriott Hotels bring with them impeccable values to 'Putting People First", "Act with Integrity', 'Pursue Excellence', 'Embrace Change' and 'Serve Our World… something that professionals from across industries can learn and take inspiration from.
'We are truly thankful and grateful to Ms. Ranju Alex, Market Vice President – West India, Marriott Hotels India Pvt. Ltd. For inking this prestigious association. This will help us raise the bar for ourselves and stay focused at working on our personal commitment of 'Creating the Next Generation Leaders in Hospitality'.

Nasir Shaikh, CEO – The Lexicon Group of Institutes and MultiFit.
Article Link :- https://www.hospibuz.com/lexicon-institute-of-hotel-management-signs-an-mou-with-marriott-hotels-india-for-strengthening-the-learning-curve-and-development-of-its-students/